Seduction in Session
Series: The Perfect Gentlemen #2
Genre: Contemporary Romance; Romantic Suspense
Authors: Shayla Black & Lexi Blake
Release Date: January 5, 2015
The second Perfect Gentlemen novel from the New York Times bestselling authors of the Masters of Ménage series.

Privileged, wealthy, and wild: they are the Perfect Gentlemen of Creighton Academy. But the threat of a scandal has one of them employing his most deceptive—and seductive—talents…

Recruited into the CIA at a young age, Connor Sparks knows how dirty the world can be. Only when he's with his friends can he find some peace. So when an anonymous journalist threatens one of the Perfect Gentlemen, Connor vows to take down the person behind the computer, by whatever means necessary—even if it means posing as his target's bodyguard.

Publishing a tabloid revealing Washington's most subversive scandals has earned Lara Anderson the ire of the political scene—and a slew of death threats. To keep herself from ending up a headline, Lara hires a bodyguard, a man as handsome as he is lethal.

When the bullets start to fly, Lara is surprised to find herself in Connor's arms. But as they begin to unravel a mystery that just might bring down the White House, Lara is devastated when she discovers Connor's true identity—and finds herself at the mercy of forces who will stop at nothing to advance their deadly agenda.
I am a ruthless bastard, but if you let me, I'll be your ruthless bastard."

I'm a huge fan of Shayla Black and Lexi Blake individually, but when these two combine their talents into a series? Fire. Works. This just may be my favorite series by them yet. And having read their entire backlists individually and combined, that's no light statement. Espionage, action, suspense, and a romance so hot it burns up the pages, all woven intricately together to make up one incredible page-turner!
Connor Sparks has always been the odd man out in The Perfect Gentleman group. He didn't come from money or prestige. His past is troubled and his future is shrouded in shadows. The CIA offered him the answer to his future and he took it with open arms. He's built a reputation for himself in the years since and he's known for being the man that gets things done no matter the cost.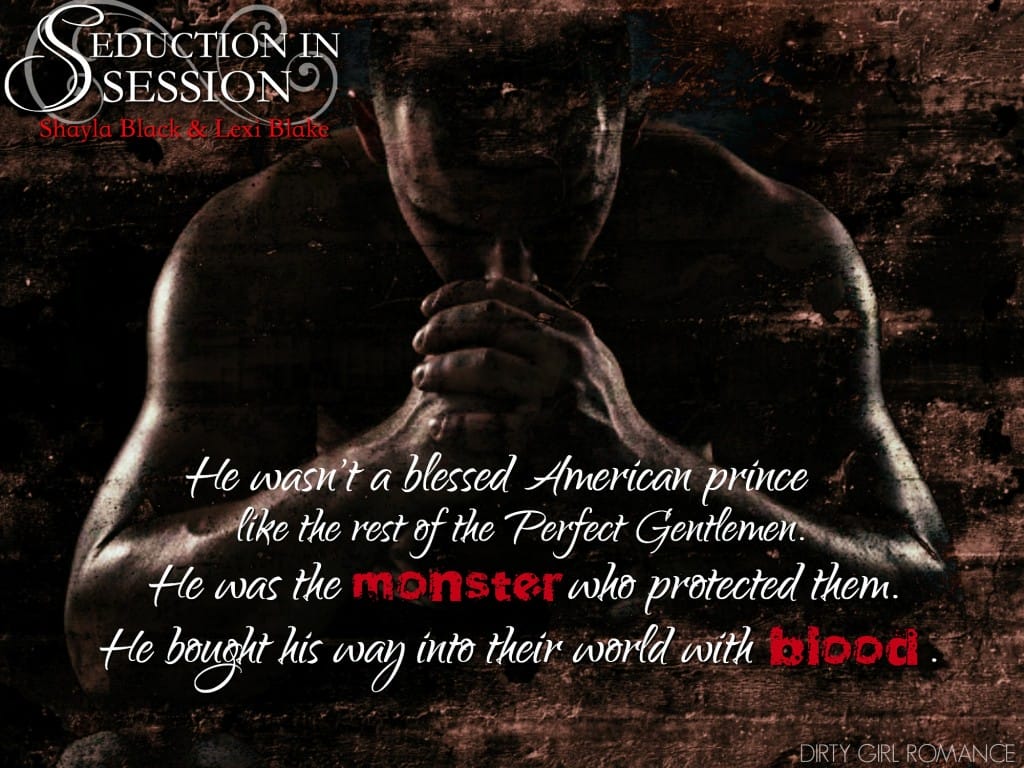 An assignment to play babysitter to a spoiled and naive woman in order to get close to a threat looming over The Perfect Gentleman is not his ideal, but he'll do it. Even if he has to pretend to be her bodyguard. But Lara Anderson is nothing what he expected and everything he soon comes to crave. It's not long before lust turns into something much more and leaves Connor rethinking where his loyalties lie when the bullets start flying.

I was a little afraid at first that Lara would get on my nerves. She's not exactly the kind of heroine I prefer to read about; a vegan that even attempts to put her dog on a diet. She's idealistic and at times naive and some of the things that come out of her mouth left me somewhere between laughter and 'did she really say that'?
Yes. I think that's a very good plan. Let's form a friendship circle and talk this out. That will bring Connor into the group and make him feel comfortable.

That was not said in jest either.
But then something happened and she began to grow on me. I began to find her…endearing. It's a true testament of an author's talent to take a character that by all rights would never work for me in any other book and yet make it work.
Simon was a dangerous enigma. He's sexy, protective, a little grumpy, and so alpha I think my ovaries actually sighed in happiness. When he releases his full effect on Lara, I was putty in his hands. This is a man that falls hard and knows when he screwed up. I spent the book waiting for that other shoe to drop when Lara figures out he's not quite who he says he is and for his grovel. I can tell you that it did not disappoint.
Seduction in Session was everything I've come to love with both these authors; it's action packed, with richly developed secondary characters, and an absolutely sizzling romance. This is not a book meant to be read as a standalone as each book builds off of the last with the story arc. While the romance has a HEA there is clearly unfinished business with the main threat against this group and I'm already twitching for the next book. Considering the set up for Dax's book, I already know I'll be salivating for his story. Hard.
Yet another addition from two of my favorite authors and I recommend it for any lovers of sexy romantic suspense. It will definitely not disappoint.
---
THE SERIES
SCANDAL NEVER SLEEPS | SEDUCTION IN SESSION | BIG EASY TEMPTATION
Want to win a paperback copy of Seduction in Session? I'll be gifting it to one lucky US follower on my Facebook page. ENTER HERE