Taking Fire
Series: One-Eyed Jacks #4
Genre: Romantic Suspense
Author: Cindy Gerard
Release Date: February 23, 2015
Betrayal. Retribution. Redemption?

Six years ago, tough-as-nails military contractor Bobby Taggart met the woman of his dreams in war-torn Kabul—a sexy, whip-smart war correspondent who approached him at a local bar, took him to bed, made him fall in love…and then mysteriously disappeared. In her wake, the terrorist leader he'd been mining for valuable intel was assassinated—then Bobby discovered his phone had been bugged. And he's pretty damn sure he's been played for a fool.

Now, a covert security mission for the U.S. Embassy in Oman unexpectedly reunites him with Talia Levine, the woman who betrayed him and broke his heart. And there's one more secret she hasn't told him—one that will change his world. But as the heat of anger mixes with a still-simmering passion, dangerous forces close in, their sights set on Talia. Trust is the only way they will survive—but with their lives in the balance, can Bobby risk trusting her again?
And there they stood, locked in an embrace of emotions that bound them together with a common history, a common fear, and a common goal.

When I think of heart pounding romantic suspense, Cindy Gerard is the first name to pop into my head. The woman is a romantic suspense rockstar. Having read her entire backlist, I'm not making that statement lightly. I loved her Black Ops series, and Bobby "Boom Boom" Taggard made quite a few appearances in it. Enough to pique my interest and leave me salivating for his own story. I had a feeling that he would be getting it in One-Eyed Jacks, and now here he is. So what can I tell you? His story was definitely worth the wait.
What I really love about Gerard's books is her ability to write these amazingly strong heroines but infuse them with just enough vulnerability to make them endearing. And Talia Levine was the epitome of that. This is a woman that can kick some ass and take names, but there's a hidden part of her that craves something more…emotional.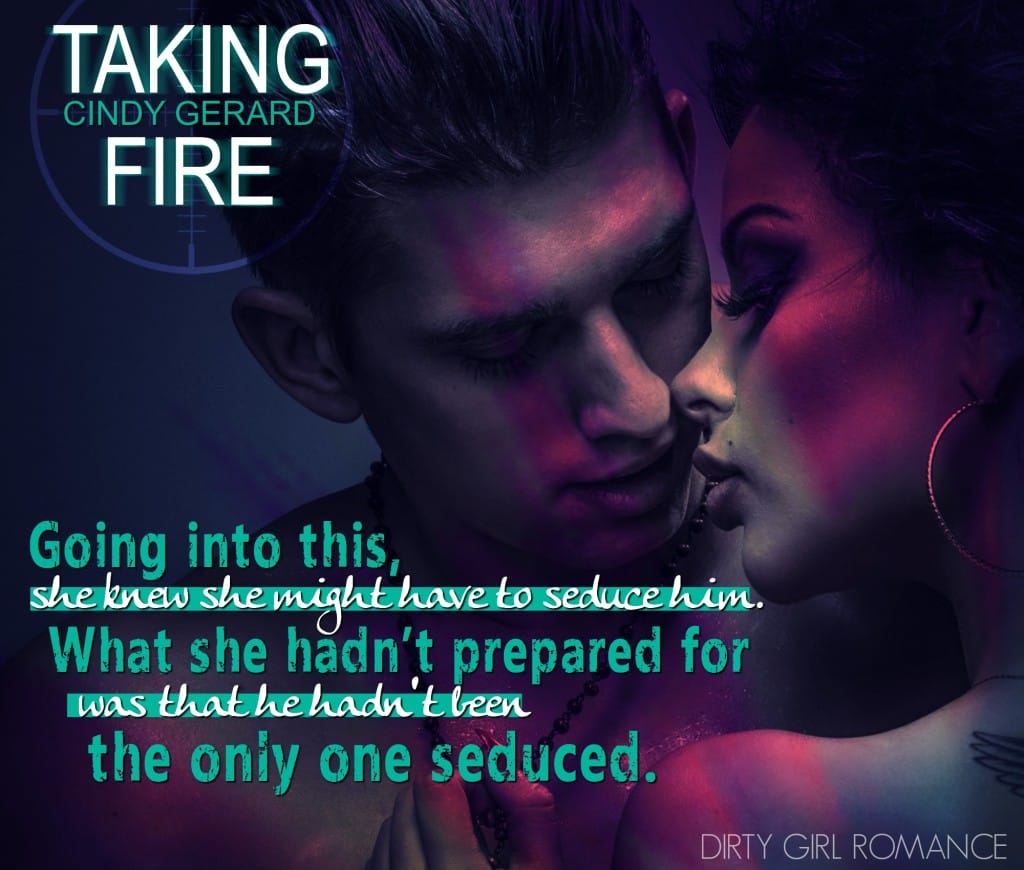 Six years ago Bobby Taggard met a woman that changed everything for him. In Kabul working for a civilian military group, Bobby still remembers the mission that caused him to be dishonorably discharged and the men his lost on the mission gone wrong. When a gorgeous woman catches his eye at a rundown bar, he's suspicious, but not suspicious enough to turn her down. He knows she's hiding something and she may not be the war correspondent she wants him to believe she is, but there's something between them he can't deny. What was meant to be just one night, began to turn into so much more for him…until she betrayed him and broke his heart.
Talia doesn't regret anything more than what she was forced to do to Bobby. She had a choice; her heart or her mission, and she made it, but not without a sacrifice. Her true identity is not the only thing she's been holding secret from him all these years. When a terrorist bombing in the U.S. Embassy in Oman brings them together once more, Talia realizes that she just may be the one with the target on her back. Bobby never got over her betrayal, and his resentment and anger still linger. But can they work together and set old secrets and their past aside long enough for a common mission?
I'm a sucker for a second-chance romance and Taking Fire delivers that with a bang. While I wanted to hate Talia for some of her choices, the author does a fantastic job really letting you into her head to understand why she made them. As for Bobby, I fell for him hard. This is a tough as nails warrior but he wears his heart on his sleeve. He struggles with his lingering broken heart, but he still can't deny that the chemistry and feelings between them never disappeared. He doesn't think he can ever forgive her for what she did to him, but at the same time he doesn't punish her for it. He's there for her when she needs him the most, no questions asked. But when the bullets stop flying and the mission is complete, he knows there will be nothing left for them.
What I truly appreciated was that the author really took her time with the ending and working on Talia and Bobby's relationship. It doesn't simply get wrapped up in a quick pretty little bow when their mission is complete. They really work for it and it was the perfect emotional conclusion. I absolutely loved it.
While Taking Fire is book 4 in the series, it's also easily read as a standalone. Nate Black and some of my favorite Black Ops characters make an appearance here, so if you've read that series you'll definitely appreciate it, but you won't be lost if you haven't either. An action packed, sexy and unputdownable read. I loved it from start to finish.
ARC courtesy of publisher in exchange for an honest review
---
THE SERIES
KILLING TIME | THE WAY HOME | RUNNING BLIND