Sebring
Series: Unfinished Hero #5
Genre: Erotic Romance
Author: Kristen Ashley
Release Date: January 11, 2015
Nick Sebring has issues. Born feeling like an outsider in his own family, growing up under the shadow of a brother who could do anything, Nick isn't that great of a guy. But when this culminates with Nick lashing out to hurt his brother through the woman he loves, Nick turns inward and makes some decisions about the man he intends to be.

And as he does this, he falls in love and truly learns the man that he's grown to be.

When his love is murdered right before Nick's eyes, Nick knows he has to avenge her. He knows how he's going to avenge her. And he has no qualms using Olivia Shade to exact that vengeance.

Olivia Shade has grown up on the outside of her family too. Her problem is that they don't want her outside. They want her all the way in, right under their thumbs. She pays the price for seeking escape and learns her lesson—she'll never see a dawn where she wakes up free.

Then she meets Nick Sebring, and even as she fights it, the hope that died years ago starts to blossom. She can find love. She can have a man of her own. She can be happy. She can be free.

Olivia hopes while Nick schemes.

However, as Nick peels back the layers of all that is Olivia Shade, he finds something surprising. He understands its fragility. He falls in love with its beauty. He seeks to protect it.

But he forgets to protect his Livvie from one thing: Nick Sebring.
In the hotel room, Nick heard the knock at the door.He moved to it, looked out the peephole and felt the corners of his mouth hitch up when he saw her.
Fuck, those big green eyes, perfectly arched dark brows, the olive tint to her skin, the expert way she shaded under her cheekbones…
She was a coldhearted criminal but she was one that was very easy to look at.
And even easier to fuck.
He opened the door.
He was going to say something but he didn't get the chance when her hand darted out and she caught him under his jaw, using it to push him in and around until his back hit wall.
She stared up at him, her hand wrapped around his jaw, her expression holding an emptiness that was so extreme it was almost like a void he could fall into and get lost forever.
He heard the door swish closed and latch.
Then she was up on her toes, her head moving toward his, those green eyes dropping to his mouth.
She didn't get her lips to his before his tongue was out, as was hers, both of them colliding and tangling before her mouth slammed to his just as her body pushed in, pressing hard, forcing him tighter to the wall.
He shoved out. Gripping her wrist at his jaw, he yanked it down, twisting and slamming her against the wall, slanting his head to deepen an already deep kiss. Their tongues again clashing before he actually took her mouth.
But he took her mouth.
And like she'd done to his, he consumed it.
His fingers still around her wrist, he yanked it around his back, using his body to shove her tight to the wall, pressing his hardening cock against her stomach.
She arched, and moving quickly, whipped him around so his back was to the wall and she took over the kiss. Tearing her wrist from his hold, she curled her fingers around his throat just as she cupped his hardening crotch with her other hand.
Fucking hell, this woman was hot.
But he was done playing.
And he was done kissing.
Her mouth, that was.
He pushed her away. She struggled to regain control.
She lost this struggle when he caught her hand and dragged her down the short hall into the room.
She lost her footing when he gave her hand a strong tug and she fell into him with a soft gasp.
He let her hand go, caught her hips and threw her four feet onto the bed.
That got him another soft gasp which took his cock from hardening to rock-solid and throbbing.
He bent over her, holding her now intense green gaze, spanning her hips with his hands. Shoving backwards, he found the hook of her skirt, released it and pulled down the zipper.
He moved his fingers to curl them into the sides of her skirt's waistband. With a vicious tug that took her hips and panties with it, he yanked off the skirt.
Chest to the bed, eyes to her cunt, the black curls neatly groomed with a precision that meant her wax technician was a master with possible OCD issues, they were also glistening with wet.
Having the tussle at the door, seeing the utter perfection of her pussy, smelling her, watching her legs part in invitation, her knees shifting up, Nick couldn't have gone gentle if he'd wanted to.
Luckily he didn't want to.
He bent his neck and devoured her.
Fuck, she tasted just as perfect as she looked.
As he fed, he felt her excitement ramp. Tasted it. Ate it. Gave her more. Consumed the result. Drove her to the edge.
And when he had her there, he stopped and moved over her.
Not surprisingly, she used both the pump she already had planted into the bed and the calf she had wrapped around him to flip him and then she was straddling him, pushing up, her hands already to his fly.
Normally, he would not allow this.
Her face flushed with need, her manner urgent, even desperate, all that surged through his blood, his gut, straight to his cock.
So he allowed this.
She tugged his pants down, grabbed his dick, guided it to her and took him home.
At the beauty of her sheathing him, he gritted his teeth against the urge to let go and release way too fucking early. Bucking his hips, he watched how much she liked taking him, her head thrown back, her shining, straight mass of silken black hair swaying.
Then she dropped forward into a hand in the bed by his side, locked eyes with him and rode him violently as he watched until she gave it to herself and she kept doing it until she forced it from him.
Fucking spectacular.
He came down buried inside her, his eyes opening to see her still resting in her hand in the bed, her body moving gently with her still-labored-but-evening breathing, her dark hair framing her oval face, her straight bangs brushing her lashes, her green eyes locked to his trying to brand him, make him hers.
No way in fuck that was happening.
But he'd take more of this.
A lot more.
That said, the woman was going to learn how to give up control.
Not surprisingly, without a word, she swung off his cock, moving immediately toward the side of the mattress.
Nick focused on pulling up his trousers, doing the fly and angling off the bed. By the time he was up and had turned his attention back to her, she was on her feet, facing him, arms twisted behind her to do up the skirt she'd put on.
He held her gaze.
"We got all night, Olivia," he informed her.
Not even a hint of a response to him calling her the name she hadn't given him.
Then again, he knew she knew him; she'd make it her business.
She also knew he'd do the same with her, even before he sat next to her the night before.
Her expression might not have changed but his words spurred her to action, this being walking his way.
She stopped. Her eyes still on his, she lifted a hand and touched his chest lightly with just the pad of her middle finger.
It lasted half a second.
Then she dropped her hand, turned and walked away.
He heard the door close behind her and he couldn't stop his smile.
Fuck yes, a seriously cool customer.
And the hottest fuck he'd had in his life.
Back in the day, Nick Sebring had been known as the incompetent, unprincipled wastrel younger brother of a successful man.
He was no longer any of that.
What he was was a dark horse.

Nick Sebring. *pause for dirty thoughts* After first meeting him as Knight's younger brother with a slew of issues in Knight, I knew I wanted his story. See I have this things for the screwed up ones, and Nick was the furthest from perfect as it gets. He had a thing for his brother's woman, a slight drug problem, and that's not touching on the other things he dabbled in. But it's been years since Knight, and Nick is no longer the young boy with issues he once was. He's all man now, but he's definitely not without issues. They're just different now.
The instant I caught sight of him, I froze.
He was tall.
His eyes were the color of the ocean.
And he made me believe that I could want something, take it and HAVE it.
Own it.
Keep it.

I never doubted for even a second that the amazing Kristen Ashley would be able to redeem Nick and boy did she! She did so flawlessly. The fact that the book takes place years after the events of Knight certainly helped. In those years, Nick has grown, he's changed, and he also suffered a loss the likes of which he never healed from. Now all he wants is vengeance. Vengeance on the man who was an integral part in setting things in motion that led to one of the most devastating nights of his life. He'll do anything, he'll kill anyone that gets in his way, and he's use any means at his disposal without regret. The best means to get to the head of a notorious crime family? Through the daughter that helps run his empire…
Mysterious pussy could also just be a mystery.
And Nick was now drowning in the mystery of Olivia Shade.
Which meant he had no choice but to solve it so he could surface.
And maybe survive.

Olivia Shade is the black sheep of her family. Her father, the head of a crime syndicate is certifiable, and her sister is ruthless. Olivia doesn't want this life for herself, but she also doesn't see a way out. The only way to escape is death, a lesson that was painfully taught to her years ago. It's a lesson she'll never forget and she carries the remnants of it to this day.
Olivia knows who Nick is. How could she not? But can she trust that his interest in her is genuine? Can she really have the sort of happy she's always yearned for? Or will it all go down in flames…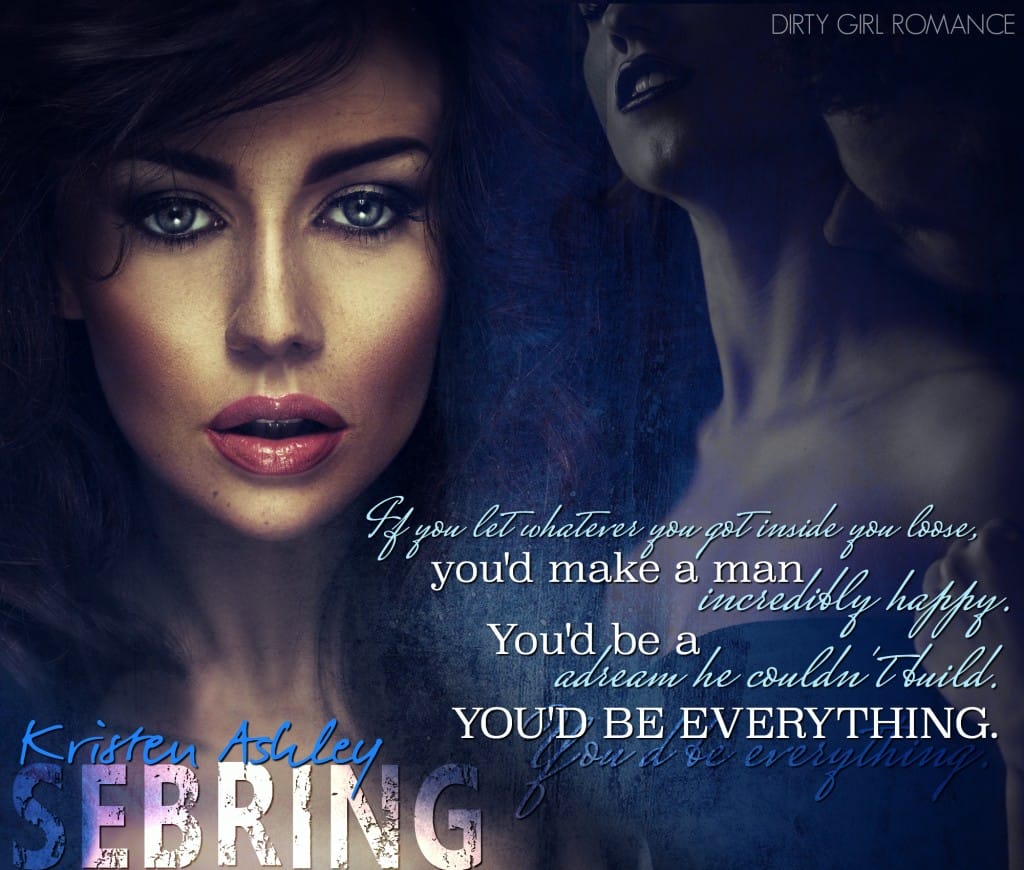 Sebring was the final book in Kristen Ashley's Unfinished Hero and it certainly concludes with a bang. Nick was everything I'd hoped he would be and so much more. He's sex on a stick and let's just say the man's kinks really did it for me.
Sebring," I gasped.
"Come," he ordered.
My entire body started trembling.
"Fucking COME," he growled.
Shuddering under him, I came.
Spectacularly.

I loved everything about this book; the set up, the characters, the romance. Olivia is a heroine that's impossible not to love. The things she's been through, and finding out the true depth of them, you begin to yearn for her HEA just as much as she does. And as for Nick? *swoon*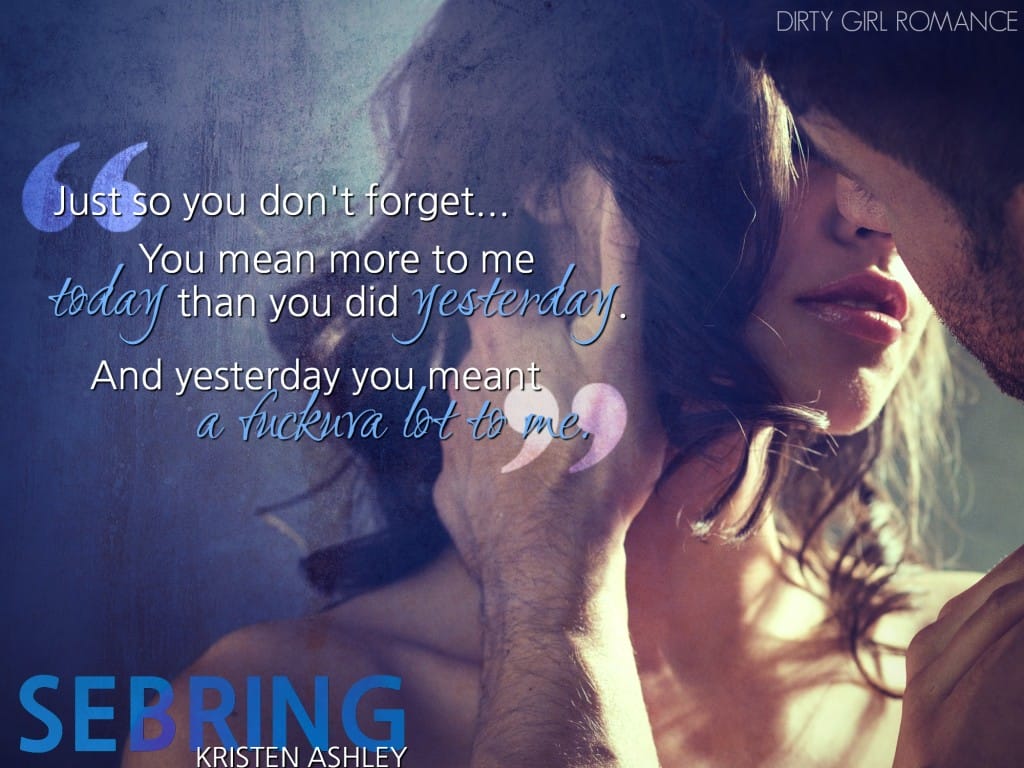 Sebring was action packed, quick-paced erotic perfection. Every new page was more delicious than the last. It offers a KA kind of grit which just works. It's not as dark as most other anti-heroes books you'll find, but it has enough of an edge to satisfy both readers that crave the super gritty and those that just want to dabble in it and dip a toe in the genre. You will absolutely devour this book. It's impossible not to.
All I can say, is Nick Sebring was worth every minute of the wait. The perfect conclusion to one of my favorite series. My only complaint is that now it's over.

a Rafflecopter giveaway