Break Even
Genre: Contemporary Romance
Author: Lisa De Jong
Release Date: December 27, 2015
My story isn't a love story … not the typical kind anyway.
As a lawyer, I'm used to discovery, but I never saw this one coming.

Every day, River gives me ten reasons to stay away, and then eleven reasons why I can't. Our relationship was to remain strictly business, or at least I tried.

Four years of marriage, and everything with Cole has changed. I never knew two people who lived together could be so distant. But I'm not ready to give up on him.

One man wants to break me.
The other is just trying to get even.

Both are lying to me.

**This is a standalone!**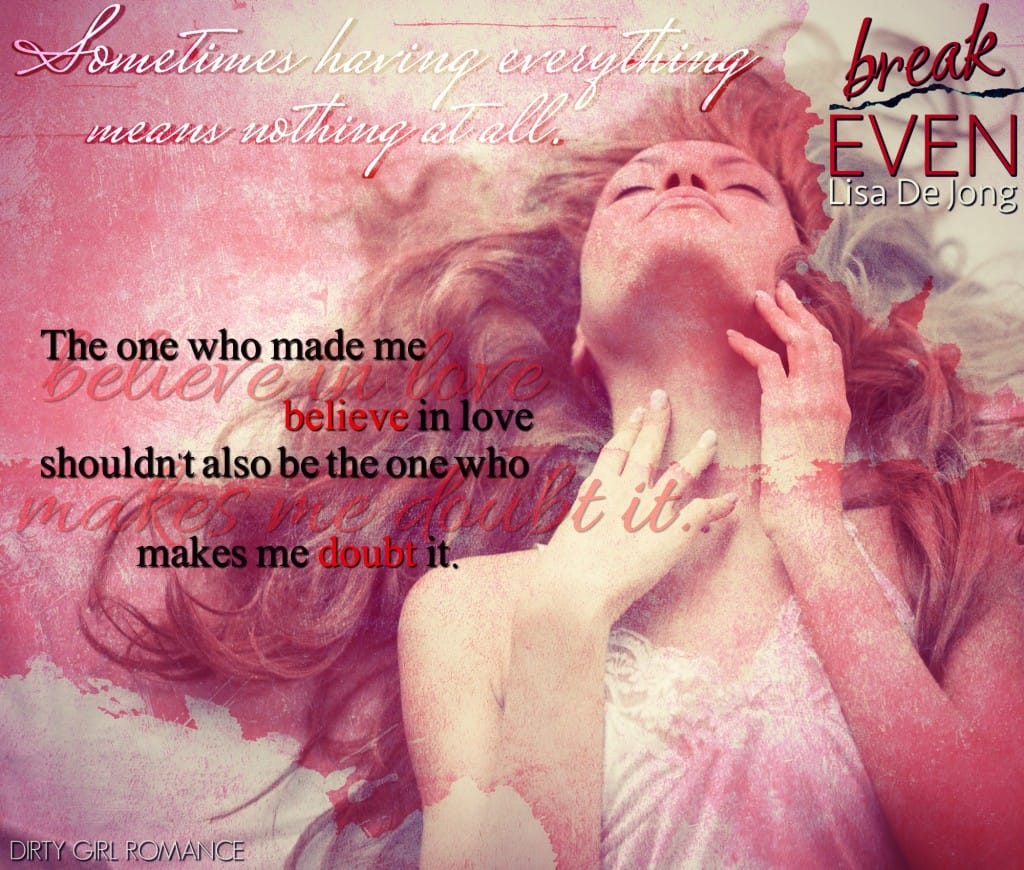 To an outsider, I have it all- the job, the husband, and the house- but inside I'm nearly empty.

I'm not a reader that has many hard limits in books, but damn if this didn't take me out of my comfort zone in the best way possible. Evocative and unpredictable, Break Even crossed many lines, but written in the flawless and gripping way it is; it just worked. See I'm one of those rare readers that doesn't mind cheating in books so long as I feel that it fits the story. I'm not saying that I condone it, but I don't see romance in black in white with books. I can appreciate that fictional characters, much like real people are not perfect and mistakes happen. If the author can endear me to the MCs, I can look past a lot; cheating, love triangles. So long as I have a connection to the characters and I understand the why's of their behavior, I can overlook their imperfections. To be frank, that's the best part of reading for me; for something to take me out of my comfort zone and make me think. I don't want perfect characters and idealistic situations. I want them real. I like the grittiness of imperfection. With that being said, I can see that this book won't be for everyone. But if you decide to venture out of your comfort zone I can also tell you that you will not regret it.
I love him. I truly, deeply love him, but sometimes I have to search forever to remember how I feel in the first place.

Break Even is the story of a woman that's torn. A woman that loves her husband but has also felt herself drift apart from him though the years. Marley is a strong, independent and professional woman, but she's not perfect by any means. In a vulnerable point of her life she meets a man that changes everything…
River is unlike anyone I've ever met. He's untouchable-unobtainable- and I'm married.

River Holtz is a sexy enigma. He entices Marley and threatens her control, yet beyond him being her new client she knows nothing about him. River was easily my favorite part of the book. He's magnetic. His words, his mere presence effected me with every page. He's a character that you don't soon forget.
Every inch of your perfect little body is aching to know what my hands would feel like. Every. Fucking. Inch. You hold a shield up, thinking it will keep me away, but there's nothing I don't see.

This is a book about imperfect people dealing with an impossibly imperfect situation. What do you do when you see your marriage falling apart? When you're vulnerable and in need of simple attention and affection. Do you strive to make your marriage work or do you give into one moment of weakness that can cost you everything? Those are just a few of the questions addressed and none of them have a simple answer.
Break Even was unpredictable and filled with the sort of twists that will send your mind reeling. You think you know what's happening, but you don't. You think you know where it's leading, but you don't. It's evocative and erotic, and yet it has that touch of emotion that will make you understand the characters and their decisions even if you don't agree with them.
I hate him.
I want him.
I loathe him.
I need him.

This was my first book by this author and I can certainly tell that it will not be my last. This book was exactly the sort of different I was looking for. It took me out of my comfort zone and kept me reading well into the night. I loved every word of it. It's not black and white. It's firmly rooted in that gray area. But the fact that Lisa De Jong truly made the reader connect with the heroine made it work.
Each character drove the plot in a meaningful way and the end result was a twist I never saw coming. It was utterly delicious. If you're looking for a book that's not your typical every day romance, I can't recommend this one enough.
You ruined me, Marley. You fucking ruined me."