The Score
Series: Off-Campus #3
Genre: New Adult Romance
Author: Elle Kennedy
Release Date: January 11, 2016
He knows how to score, on and off the ice

Allie Hayes is in crisis mode. With graduation looming, she still doesn't have the first clue about what she's going to do after college. To make matters worse, she's nursing a broken heart thanks to the end of her longtime relationship. Wild rebound sex is definitely not the solution to her problems, but gorgeous hockey star Dean Di-Laurentis is impossible to resist. Just once, though, because even if her future is uncertain, it sure as heck won't include the king of one-night stands.

It'll take more than flashy moves to win her over

Dean always gets what he wants. Girls, grades, girls, recognition, girls…he's a ladies man, all right, and he's yet to meet a woman who's immune to his charms. Until Allie. For one night, the feisty blonde rocked his entire world—and now she wants to be friends? Nope. It's not over until he says it's over. Dean is in full-on pursuit, but when life-rocking changes strike, he starts to wonder if maybe it's time to stop focusing on scoring…and shoot for love.
I kiss him back hungrily, helpless to resist him. Dean Di Laurentis is in my blood now. I didn't expect this intense sexual chemistry between us, but it's here, and it's addictive, and I don't know how I can ever give it up.

You know when you read the first book in a series and you love it so much that you don't think anything can top it, but then you read the second and you love it just as much? So then you know that the chances of that continue to hold for the 3rd book are slim, right? In my experience, it's tough to keep that sort of momentum going…unless, of course, you're Elle Kennedy. Because not only was The Score absolutely fantastic, but it turned out to be my favorite in the series. And considering how much I loved the previous two books, that's saying something.
Now let's be real here; considering how much I love me my manwhores, it was already a good chance I'd love Dean Di Laurentis. Even the man's name is hot, for goodness sake. Between his self assured ways, cocky attitude, humor, and manwhoring tendencies, I couldn't get enough of him.
The guy has the attention span of a fruit fly, and the affection-giving habits of a puppy, offering his sexual devotion to whoever happens to be holding the treat. By which I mean the vagina.

What I love about Elle's writing, is the depth that she gives her characters. And Dean certainly was no exception. He may be the hard partying manwhore with a crass sense of humor, but beneath that perfect exterior there's so much more to him and you really get to see it blossom here.
Allie Hayes is Hanna's best friend that just recently broke up with her long term boyfriend of 3 years. In fear of giving in when he comes calling again, Allie seeks an escape at Garrett's place. She knows all about Dean and his one and done ways and he may be hot but he's not for her. She's a nester. She has relationships not one night stands. But then a broken heart and some tequila lead to one of the hottest hookups of her life with none other than the sexy manwhore. She's determined to keep it in just friends zone after but Dean is determined to change her mind.
Have you considered seeing a psychiatrist about your delusions?" I ask politely. "Because, sweetie, there's no chance in hell of us boning tonight."
"Fine. How about we go down on each other instead?"
"How about you leave?"
"Counter offer- I stay and we dry hump."

The Score is this amazing combination of witty humor and endearing characters. While I loved the slow building romance between Dean and Allie, what kept me turning the pages was the banter between them and the rest of the guys. The Twilight references alone had me laughing like a loon. It was witty and crass, and wildly entertaining. Dean and Allie together was the perfect examples of opposites attracting and I absolutely loved them together. Their banter and chemistry was utterly delicious.
…last I checked, genitals don't decide who gets to listen to their music first."
"Oh yes, they do…
See, if you take away my dick privileges, I'll be fine for moths. Years, even. But if I take away your pussy privileges? You'll be utterly lost. Like a drowning man at sea, desperately grabbing for the vagina preserver. Therefore, vagina trumps penis."

I loved how Miss Kennedy pulled off an incredibly sexy romance while keeping it realistically slow paced. These two may burn up the sheets together, but the feelings came with time and I for one loved watching those develop for both of them.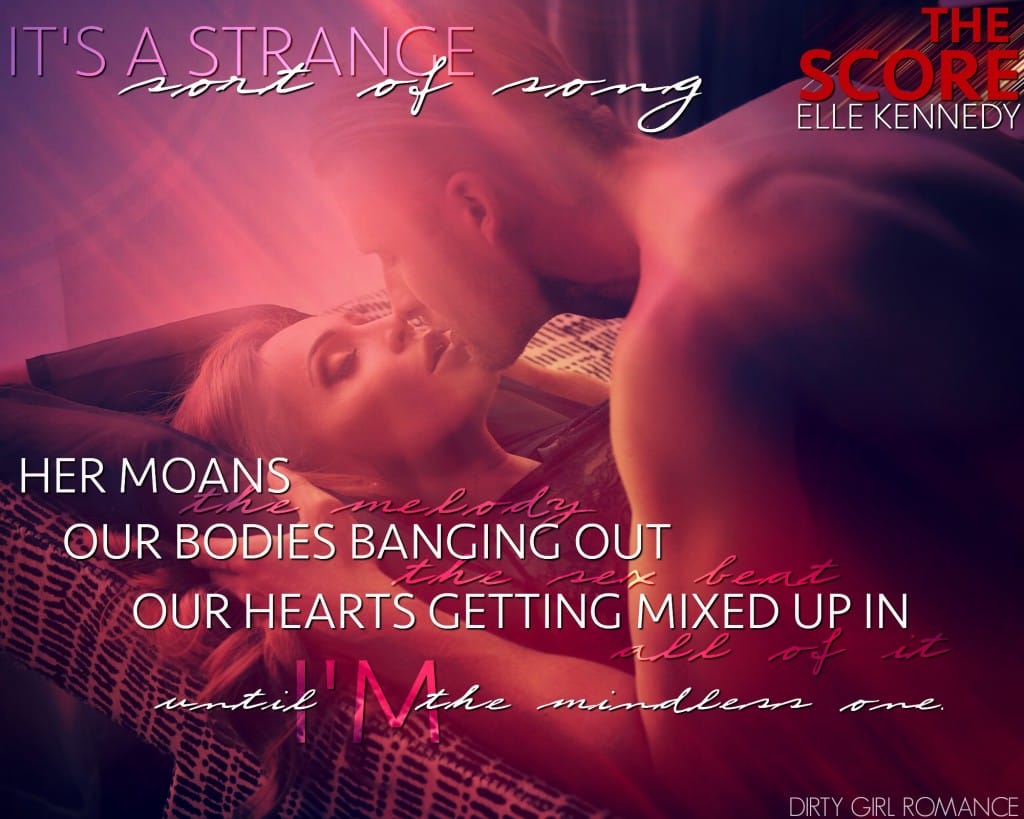 This isn't just a story of the manwhore meeting his match and inevitably succumbing to his feelings for her; it's so much more. The story had wit and humor and so much depth to it, too. There's something that happens towards the end that caught me completely off guard. I never in a million years expected something like that to happen and yet as much as it broke my heart, I can't help but to admit it did the job of driving the plot where it needed to go.
Without a doubt, Elle Kennedy is a force to be reckoned with. The woman can write the hell out of a book. Dean and Allie's story was funny, sexy, swoony, emotional and wildly entertaining. It was everything I love about romance and exactly why I read New Adult. THIS is how it needs to be done. I can't wait to see what the next book brings, because after that little peak we got? Oh yeah! It's about to get real.
---
★DON'T MISS THE REST OF THE SERIES★
THE DEAL (on sale for $.99) | THE MISTAKE (on sale for $1.99)